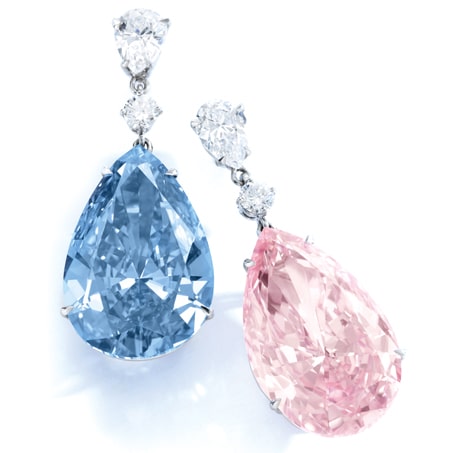 Sotheby's auction house is set to auction "The Apollo and Artemis Diamonds", two incredible fancy diamonds set as earrings, which combined may be worth up to $68,000,000 USD.
The Apollo Blue is a fancy vivid blue diamond weighing 14.54 carats and is internally flawless. The Artemis Pink is a fancy intense pink diamond weighting 16.00 carats and is VVS2 clarity.
The enthusiastic commentary from the Sotheby's release states: "Diamonds of this quality, with this extraordinary depth and sophistication of colour, and of this size are unfathomably rare. The sheer randomness of their very existence, the confluence of cosmic conditions that generated their miraculous formation process, billions of years ago, deep in the earth, is wondrous."
Sotheby's has stated that these fancy diamonds will be the "most valuable" set of earrings in auction history, so expect records to be set at the auction. The fancy vivid blue diamond is the largest of its colour and clarity to ever be offered at Sotheby's.
David Bennett, chairman of Sotheby's International Jewellery, said "Together, as a pair of earrings, they are breathtaking. We have named them after Apollo and Artemis, a twin brother and sister of great power and beauty who were among the most widely venerated of the Ancient Greek deities."
The auction is set to take place in Geneva on May 16th in Sotheby's Magnificant Jewels & Noble Jewels auction.
Who wants to buy these for me?
For more information, visit: http://www.sothebys.com/en/news-video/blogs/all-blogs/all-that-glitters/2017/04/apollo-and-artemis-blue-pink-diamonds-geneva-magnificent-jewels.html