Natural Fancy Colour Diamonds
Q Diamond's procurement of rare and unique natural colour diamonds provides our clients with access to impressive collections ranging from natural artisanal selections to fine quality and investment grade natural colour diamonds.
We carry a wide array of natural fancy colour diamonds available for every budget, occasion and personality. Whether looking for an impressive fancy colour diamond for an engagement ring or colour diamonds layouts for eternity rings, bracelets, necklaces, earrings and one-of-a-kind statement pieces.
Q Diamond offers our extensive expertise, knowledge and unique access to specialized colour diamond manufacturers and tenders, to assist both jewellers and investors in making informed decisions and the perfect choice when purchasing colour diamonds.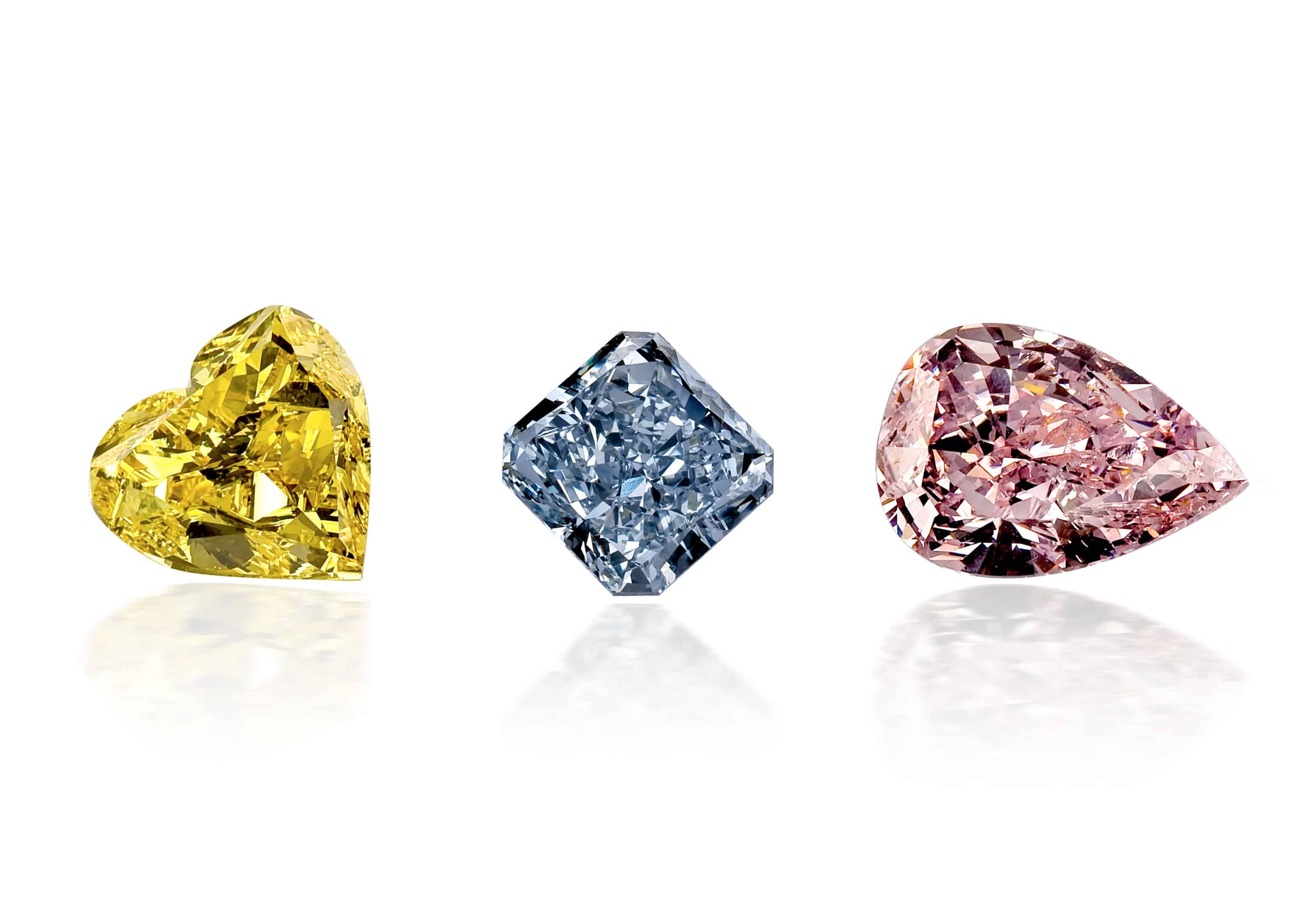 Investment Grade Colour Diamonds
While we do believe that diamonds should be worn and adored.  One can not ignore the consistent rise in market prices of natural fancy colour diamonds. Due to their rarity and uniqueness, the popularity of colour diamonds has grown dramatically in fine jewellery as well as an attractive high yielding hard asset. According to the Gemological Institute of America, just one out of every 10,000 diamonds is considered a fancy colour diamond. Dwindling supply and increasing demand have placed natural colour among the rarest commodities on earth. Historically sought after by collectors and connoisseurs. Fancy colour diamonds have become an attractive investment alternative for corporations, funds and seasoned investors.
Since the time that prices of sales have been recorded, prices of  colour diamonds have increased year over year. Most notably pink diamonds, blue diamonds and yellow diamonds; the three most desired and traded colours in the industry have increased in value even during times of economic downturn's and recessions. This proven by the published record-breaking sale prices of fine quality colour diamonds of all sizes at auctions around the world.
It should be noted, as well, that many mines that produce these unique colour diamonds are expected to dry up.  The Arglye mine, for example, in western Australia which produces over 90% of the world's fancy colour pink diamonds is slated to close in 2020. A similar deposit of fancy pink diamonds has yet to be discovered, further ensuring the scarcity and demand for these rare precious and beautiful stones.
Other rare and beautiful colours and shades also present an opportunity to appreciate colour  diamonds as desired piece of jewellery, an investment or as an addition to a portfolio. In addition to Pink Diamonds, Yellow Diamonds and Blue Diamonds.
We offer an impressive spectrum of colours, shades, shapes and sizes. Including: Green Diamonds, Orange Diamonds, beautiful Brown shades of Cognac, Champagne and Chocolate as well as Fancy Gray and Black diamonds.
Contact Q Diamond to see how we can best assist you in acquiring your precious, rare and beautiful natural fancy colour diamonds at internationally competitive wholesale pricing.